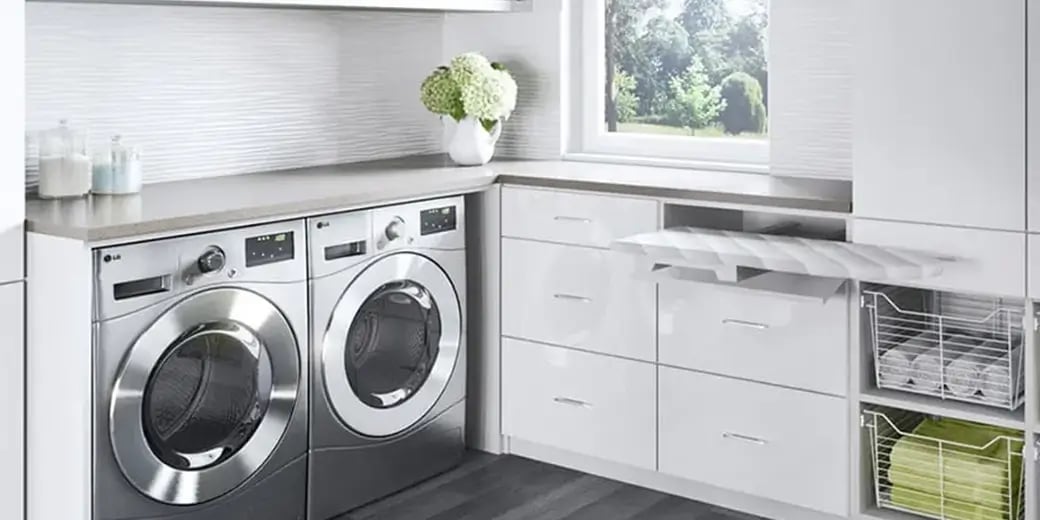 Published: September 1, 2023
How to organize and clean your laundry room
The washing room is no longer confined to the smallest, darkest corner of the house. Laundry rooms today are designed to be light, airy, and welcoming. And, let's face it, we need that to do this task. Even though their appearance and location have improved, they nevertheless become unclean, messy, and cluttered.
The first step, whether your laundry room is luxurious or a modest closet, is to clean it. Wipe off any shelves or cabinets that have anything on them. Remove the washer and dryer and clean below them. Empty the dryer vent and the washer's lint trap. If your washing machine stinks, take advantage of this opportunity to clean it.
Stop (take a pause), look around, and consider the following considerations before returning items to their original positions. After all, organization is all about making the best use of available space. This may entail adding a few simple tools or goods to improve the efficiency of your space.
Countertop
A countertop is essential. Add a counter if you don't already have one. It not only provides a place to put things beside the top of the washer or dryer, but it may also function as a folding station. And anything that includes the word "station" indicates organization. If you don't have the means or the time to install a countertop, consider installing some foldable shelves. This will boost your storage capacity as well.
Cabinets
Cabinets keep clutter at away. They give storage space in a visually appealing way by concealing its contents. Place your cleaning products in the cupboards, placing the items you use the most on the lower levels. Bring all of your cleaning supplies into your laundry area as an extra organizer.
Baskets or Containers
Baskets can be a visually appealing solution to store items, especially if you have a little space and the items are visible. Even if you have plenty of room, they help organize smaller objects in cabinets in your laundry room.
Hamper
If you can only accomplish one thing on this list, make it this one. Set up a sorting basket for whites, darks, and delicates in each person's room who contributes to the laundry pile before you ever go to the washing room. By having the things already in a basket or hamper, you save time and space.
Wall Hooks
Hooks or hanging racks should be placed in areas where you need things to be ready, such as cleaning products on racks or dry cleaning ready on hooks to go out the door. Install a rack to keep brooms and mops from toppling over (and smacking you in the head)!
Foldable Drying Rack
This handy item can be fetched whenever it is required. It can also be moved, which is beneficial if you just have a little amount of space in your laundry room.
Ironing Board
I strongly advise you to switch to non-ironing clothing if you haven't already. If you have to iron, invest in a compact ironing board that can be hung on the back of a door or stored in a cabinet.
While not considered crucial to organizing your laundry room, using a professional house cleaning service will go a long way toward helping you organize your life. The time that is freed up can be spent relaxing, enjoying your family, or doing anything else that you love. Get an estimate today to find out how Santopi Cleaning Services can help.
Numerous families have trusted Santopi Cleaning Services throughout the years. Give yourself the gift of leisure and relaxation by making a service request or calling our office today.
Want a Free Estimate?
Our expert house cleaning services are offered in different frequencies, allowing you to choose the program that best suits your needs!
Want a Free Estimate?
Our expert house cleaning services are offered in different frequencies, allowing you to choose the program that best suits your needs!