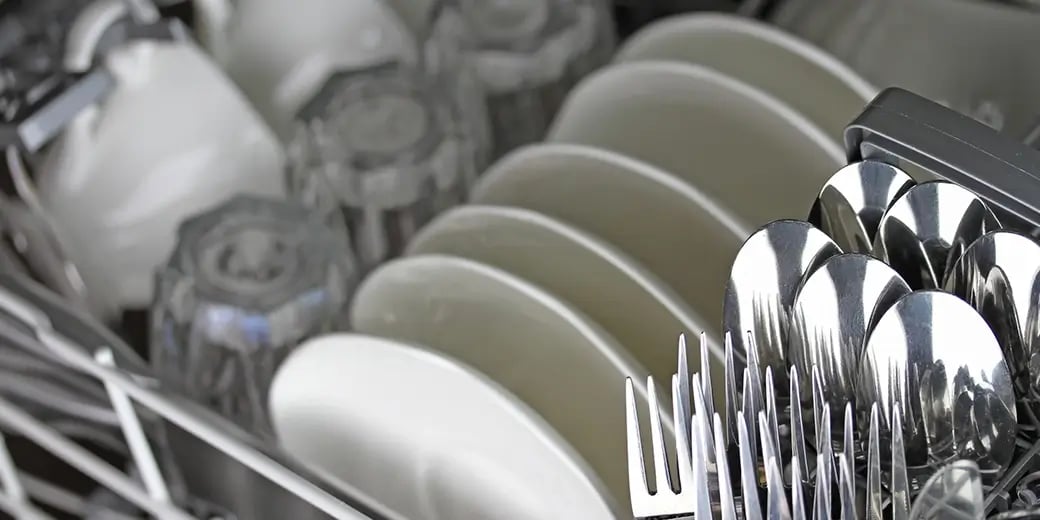 Published: March 24, 2018
Tips to help your dishwasher run better
If you're lucky enough to have some (mechanical!) help with your dishes, how's your helper doing these days? Cooking can be tough on the dishwasher. All those goopy soups, milk-crusted mugs, and baked-on casseroles can overload it; perhaps you're feeling like things aren't running as smoothly or smelling as good as they ought to in there.
Well, we're here to help, with 10 tips for making your dishwasher run at its best.
Are these tips familiar to you? I was already doing several of them, but a few were new, so I thought they might be for you as well.
10 Ways to improve the performance of your dishwasher
Don't confuse scraping with washing. No one wants to wash their dishes before they wash their dishes; it's just silly. But you wouldn't want to eat a Thanksgiving dinner and then go run a marathon right after. Well, neither does your dishwasher. Scrape food bits off before loading up to help reduce particles stuck on dishes once the cycle is over.
Don't overcrowd the dishwasher. It's something that's easier said than done. It's quite tempting to layer in one more bowl or plate to avoid hand washing. Just remember, it's better to wash a few pieces by hand than it is to rerun an entire load because things were too tightly packed.
Run hot water before starting the dishwasher. Before starting the cycle, turn on the faucet and run it until the water is hot to the touch. This means your first dishwasher fill cycle will be hot instead of cold until it finally makes its way over from the hot water heater. This is an especially important tip in the winter, as it takes longer for the water to heat up.
Use the correct cycle. It can be tempting to use a shorter, lighter setting to save on time and water bills, but make sure you're washing all your super-dirty dishes by hand if that's the case. Just like doing your laundry, keep soil levels together when washing to end up with the best performance.
Don't double up on rinse aid. When looking to purchase a new soap for your dishwasher, make note if it includes a rinse aid. If it does, then there's no need to add anything extra. If it doesn't, skip the extra purchase and just fill the reservoir with white vinegar. It'll do the trick every time!
Run an empty dishwasher with vinegar. It's the same concept as running a vinegar load in your washing machine. You simply toss a cup of white vinegar into the bottom of an empty dishwasher and run a normal cycle. It cleans out old food particles to keep your dishwasher smelling fresh.
Clean the dishwasher trap. Down in no-man's land, under the lower sprayer, there's usually a piece that is removable. Under it, you'll usually find bits of food that didn't make it out the drain or even pet hair (eww) if you have a furball of any kind running around your home. Sometimes the tray comes out fully so it can be rinsed in the sink; sometimes a towel is needed to remove the gunk buildup.
Clean the dishwasher seals. After a few months of use, your dishwasher accumulates a little bit of ick that sticks around the rubber gasket in the door and often around the soap door as well. Make sure to give them a once-over with a damp towel to keep the grime down.
Check your water heater's temperature. There's a joke about where to put the thermometer, but we'll pass it this time around. Make sure your water heater is set between 120 and 125 degrees. Many units are shipped with a new set at a much lower temperature. This is the ideal temperature for washing dishes; don't be tempted to turn it higher, or else it will cause the water to flash dry and not roll off your dishes, taking the ends of the dirty bits with it.
Test your water. Hard water is killer for dishes and your ability to really get things clean. Make sure to have things tested and soften accordingly.

Those are some of the simplest solutions if your dishwasher is leaving grime on the dishes or not smelling so fresh. Have you found other good practices for keeping that precious dishwasher running well?
Numerous families have trusted Santopi Cleaning Services throughout the years. Give yourself the gift of leisure and relaxation by making a service request or calling our office today.
Want a Free Estimate?
Our expert house cleaning services are offered in different frequencies, allowing you to choose the program that best suits your needs!
Want a Free Estimate?
Our expert house cleaning services are offered in different frequencies, allowing you to choose the program that best suits your needs!